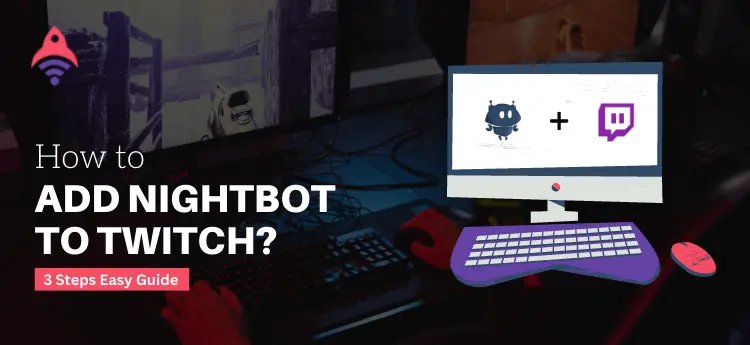 How to Add Nightbot to Twitch?
When discussing Nightbots, there are so many benefits of using them while using a live-streaming platform. But did you know how to add Nightbot to Twitch? We will discuss it gradually later in this blog. For now, we will discuss some basic concepts about this matter.
When we specifically talk about the Twitch streaming platform, there are a lot of things that you have to manage during the live stream. Handling a live chat on Twitch is not a simple thing. You need a mastery approach to answer each of your viewers' questions. Sometimes, you may forget to reply to a user during a live stream. That thing can affect your viewer count. For that moment, the use of Nightbots on Twitch chat is one of the greatest things that greatly benefit you. Answering your users in the chat with the help of Nightbot increases the interest of users and allows them to be loyal to you.
In addition, it also increases user engagement with your channels, and eventually, your Twitch channel grows. In this article, we will discuss every aspect related to Nightbots so that you can better understand it. At the end of this blog, you get a master to use Nightbots in your Twitch or YouTube streams to make it easy for your users.
How To Setup Nightbot On Twitch Easily?
As a streamer on the Twitch platform, managing streaming and chat requires multitasking management skills. Your valued viewers are hitting the likes and commenting on something in your chat room. Not answering them can impact your credibility. That's why knowing how to add Nightbot to the Twitch chat room is a plus that can lead you to make your users loyal to you. With the help of this approach, you can get more user engagement with your stream. In this section of our discussion, we will find out how to easily set up Nightbot on Twitch streaming chat. So, let us start to make it easier to acknowledge.
Step 1- Go To The Nightbot Website

The first step is to go to the Nightbot site and sign up for it.
Step 2- Select The Way You Want To Log in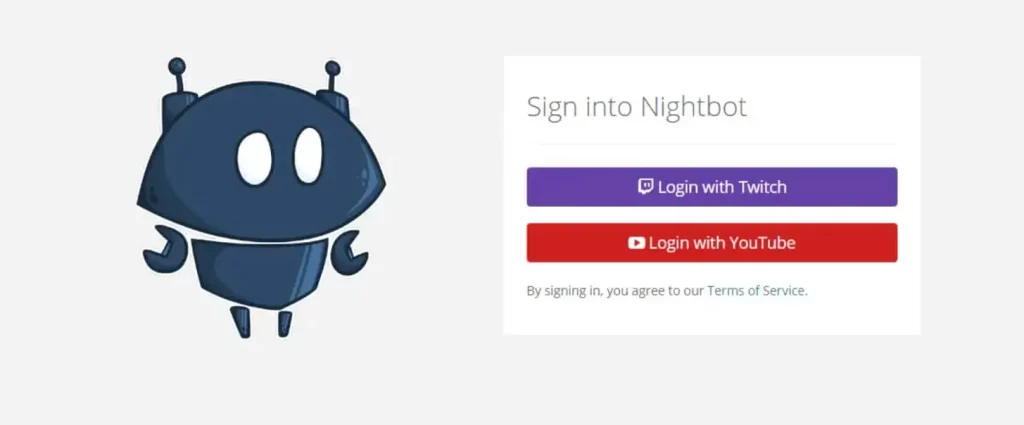 When you go to the Nightbot site, you must choose one option to sign in. You can use your Twitch account information or YouTube ones, according to your preference.
Step 3- Join The Channel

The third step is to join the channel by clicking on the option of Join Channel. You will find this option on the dashboard of Nightbot easily. After selecting this option, a pop-up menu will appear. Follow the leads and proceed. This approach will start to invite chatbots to your channel. This is how to add Nightbot to Twitch!
After completing the above steps, you are done with adding Nightbots to your channel! You can certainly use them in your chat so that you can answer your viewers easily and quickly.
Related: How to Link PayPal to Twitch?
All The Best About Nightbot Features
Twitch Nightbots is the most significant way to take your channel to the next level. So many features that come with the Nightbots in your Twitch stream chat. In this section, we will discover the magnificent features of this command. So, let us start it.
Multiple Commands and Customization of Commands
Knowing how to add Nightob to Twitch stream chat opens multiple benefits for you and your users. In addition, it not only allows you to add different commands but also customize them to make your user experience magnificent. Following are the commands that come out with the Nightbots.
The "!commands" gives users a list of commands in the cat so they can use them efficiently.
The command of the "!poll" enables you to start a poll in your Twitch chat.
You can also make customized commands with the help of this feature. For example, you can use YouTube as a link to your youtube channel. In addition, you can use Twitter to refer to the link for your Twitter account.
You Can Use It for Spam Protection
One of the best features of Nightbot is the ability to prevent any kind of spam comments. It allows you to put out certain words, links, and many other kinds of stuff that you don't want to receive in your chat. You just need to adjust the filter in Nightbots to make things feasible.
Send Customize Message To Welcome
As a streamer, you can understand how hard to welcome a new user during live streaming. Nightbot can send a welcome message so that they can feel valuable to join your stream. You can also make your message customize it from settings.
Set Timers for Call To Action
As mentioned, Nightbots are the most helpful thing to use in Twitch streaming chat. In your chat, you can notify users to subscribe to your channel. They also let you set the timer that indicates your upcoming stream timings. Moreover, with the help of this magnificent bot, you can remind your viewers about your successive stream schedule so that they can join it on the go. Numerous benefits come with the use of bots in your Twitch streaming chat. Then why not use them so you can spend more time streaming and less time in chat? Indeed, using this facility will boost user engagement, view count, and watch time.
Verdict
With the above-detailed discussion on How to add Nightbot to Twitch, it is concluded that using these bots is super handy. You just need to add to your Twitch stream chat, and with a bit of adjustment in settings, you can control your chat easily. It allows you to save time on replying in chat, boost the engagement of Twitch users, and allow your users to get replies faster than ever. With all its magnificent benefits and features, Nightbots are the best option to make your Twitch streaming chat experience exceptional.