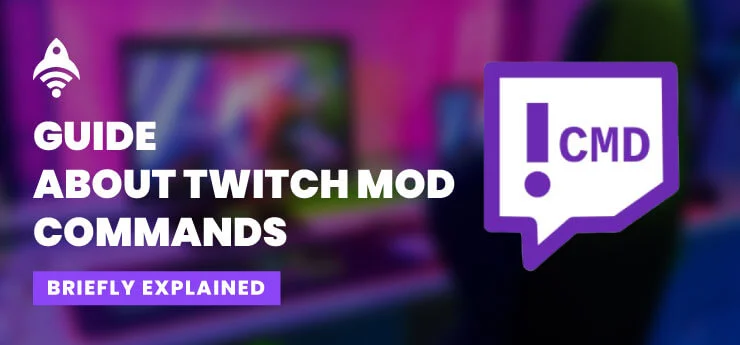 Twitch is one of the most versatile platforms that allows you to stream multiple game streaming and enables you to build a community that supports you, such as viewers and followers. If you are a streamer, you must know how important it is to keep engaging with your stream's audience so that they keep supporting you. Answering them in chat, collaborating with the viewers, and interacting with them during streaming can be difficult to manage when you have a bulk of them.
At that time of need, Twitch's handiest feature, moderators, come in handy and manage your chat and other managerial tasks while you focus on your streaming. As a streamer, it is important to have those mods familiar with Twitch mod commands. Other than that, things can still be messed up, and you can decrease user engagement on Twitch.
If you are wondering what mod commands are on Twitch, how are they handy for you to know? How can they be used to manage Twitch chat? And many other related scenarios, this blog will help you understand every aspect related to that matter. Let us start our discussion with the basics, and gradually, we will go to the complex angles of this matter.
What are Twitch Mod Commands?
When Twitch Mod commands come to talk, things get very interesting as there are a lot of singles that commands handle. Twitch commands for streamers and their moderators refer to Twitch moderator commands that allow the moderators to make things easy and manageable. As it is clear from the name, these Twitch commands allow the mods to make the chatroom alight according to the rules of your streaming channel so that everything gets harmonized and the viewers are kept engaged.
Some commands are for everyone, and some are specifically for the stream mods. In the next section of our discussion, we will discuss both types of commands and how handy they are to use on Twitch as a moderator or how you can edit a command as a mod.
Use Commands on Twitch – But How?
If you are curious about using Twitch commands or chat features on Twitch, you will need to stream first, and after that, you can use them. The below section of our blog contains commands for everyone's use, and the others are specifically for the Twitch mod commands. Let us start to explore both.
Twitch Commands For Everyone's Use
Whether you are a moderator, a streamer, a follower, or a viewer on the Twitch platform, following Twitch commands can use everyone. Here is the detail of these commands.
1. Command To Show Moderators On a Streaming Channel

The command of "/mod" is used to navigate the moderator of a Twitch streaming chatroom. Any user can use this command on the Twitch streaming platform.
As a new user, you can use this command to ask about the agenda of on-air streaming or get information about the streamer, which is a handy approach.
2. Command to See VIP List
With this command's help, you can easily see the list of all the VIPs of a channel's stream. You need to write "/vips" and hit the enter button. The stream's VIPs are special users close to the streamer and have a special diamond badge next to their names. Multiple benefits come to the plate when you become a VIP member of a streaming channel.
3. Whisper Command on Twitch
The whisper command "/w username message" allows you to directly tet to a Twitch user. With this command, no one will know that you text a user directly, as it will be between you and the sender.
There is a list of commands that everyone can use on Twitch to make things easy. From the command to mention someone, "@USERNAME," to unblock someone that you have blocked previously, "@Unblock USERNAME," and many more. In the next section of our blog, we will discuss the Twitch commands for moderators' use and see how a mod can edit them while using them. So, let us start to make things easy for us to understand.
Twitch Mod Commands – Can Only Use Moderators
The streaming moderator can only use the Twitch mod commands that we are about to discuss. Whether you are a VIP, viewer, or follower of the stream, you can not use these commands. Here is the detail of these commands.
1. Command to See User's Profile
The command "/user Username" is used to see the profile of a Twitch user, allowing you an insight into that user. You can run this command by writing it in the chatroom or clicking on the username.
2. Ban a User in Twitch Chat
/ban Username command used to ban an extra spicy user and a stake of healthy chat.
3. Unban a Twitch User in Chat
Have you decided to lift the ban on the user? Use the command of /unban Username, and then the user can again participate in the chat.
4. Chat To Slow the Message Bulk
This command is used to delay the chat messages so that you can focus on answering the others. To run this Twitch mod command, you need to write /slow Seconds. The message will slow to that many seconds, as you will mention.
5. Command to Turn Off Slow Messages
To turn off the slow command, you need to write /slowoff and that's it.
There are so many other commands available that Twitch mods can use to regulate chatrooms. From the Subscribers Only Chat On or Off to the Followers Only Chat On or off. Many commands are there that the Twitch moderators can use to make streamers' experience more elegant.
Frequently Asked Questions
How to Add Commands on Twitch as a Mod?
As a moderator, you have a lot of commands that can be used in the Twitch chatroom, as mentioned above.
How to Add Commands on Twitch?
Streamers and moderators can add multiple commands to regulate their streams and make a healthy environment for streaming. From the chat room, you can add any command.
How to Edit Commands on Twitch as a Mod?
You need to write /EditComamnd, and you or your mod can edit any command on Twitch.
At the End of Discussion
From the above discussion on Twitch mod commands, we can say that a versatile range of commands is applicable to the Twitch streaming platform. The use of commands allows you to regulate your streams and enables you to make harmony. Read the above discussion to get an insight into different Twitch commands for everyone and for Twitch moderators.