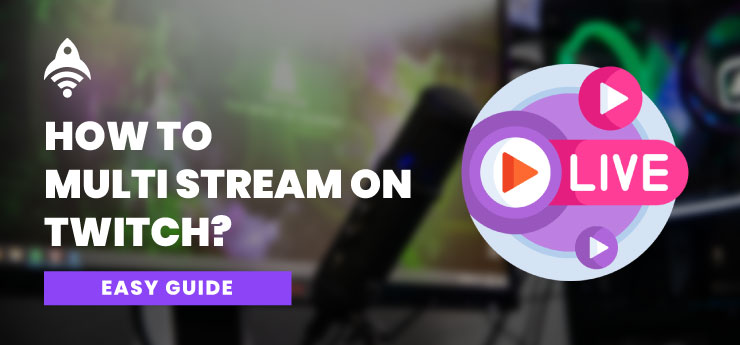 How to Multi-stream on Twitch?
Twitch is one of the most exquisite live-streaming platforms that allows its users to watch and broadcast live content so that others can enjoy it. If you are a Twitch user fond of watching the stream, you must have followed the content creators you like the most. Twitch is a worldwide streaming platform, so two or more streamers may go live simultaneously. At that time, you can get confused about which streamer's stream you might watch and which to let.
Opening multiple tabs can be the way to deal with such kinds of scenarios in that scenario. But, the to-and-forth motion in tabs can be a non-pleasurable experience to consuming digital content on the twitch streaming platform.
At that time, multi stream Twitch tools come in handy. The use of multiple streaming tools available on the Twitch platform allows you to watch multiple streams from one window without affecting your watching experience. These approaches or tools or features allow you to watch your multiple streams at once without any interruption and enable you to participate in each stream's chat.
If you are looking for a way to connect multiple streams simultaneously or want to know how to do squad streaming on Twitch. This blog will lead you to those ways with which you can watch multiple streams on a single screen and also, and you will learn how you can do squad streaming on the Twitch streaming platform. So, let us dive into it and find the hidden treasure!
How To Do Multi Stream Twitch?
There are mainly four ways that allow you to multi-stream on Twitch. In this section, we will go through all of these approaches. So, let us start to make things right for us to use.
The First Way- Squad Streaming on Twitch
For those streamers who want to stream with other streamers so they can experience that opportunity, Twitch allows them to use the Squad Stream feature. This feature is Twitch's built-in and allows four streamers to connect to each other's streams and make a squad. In addition, all streamers can watch each other on a single screen using a computer or the Twitch mobile application. Here is one drawback of that feature.
In Twitch squad streaming, you can only watch that multi-creator squad streaming if the streamers choose you to join their force. It means the Twitch squad feature did not allow you to choose the streamer you want to watch simultaneously. The squad multi stream Twitch feature is one of the handiest ways to watch multiple streams simultaneously. You might wonder how to start a squad streaming on the Twitch platform. Here is how to squad stream on Twitch.
How to Use Squad Stream Feature on Twitch?
Before we start, let me clarify that you can only use the Squad Stream feature if you are a Twitch Partner, and you can only invite to join the squad to partner streamers. Here is how to do Squad stream on Twitch.
Go to Twitch TV in your browser and head to your profile at the right corner of your dashboard.
Select the option of Creator Dashboard from the drop-down menu.
Now click on the Stream manager from the left-side menu.
On the right side, you will see an option Start Squad Stream under the Quick Action option. Click on it and proceed.
Add the other streamer's channel that you want to start a squad streaming.
Search the streamer's name in the search bar.
Now, wait for the acceptance of other streamers to join your squad.
That is how the squad multi stream Twitch feature works! The above discussion shows how easy it is to start a squad streaming on Twitch. Now, let us discuss another way to watch multiple streams simultaneously.
The Second Way – MultiTwitch.TV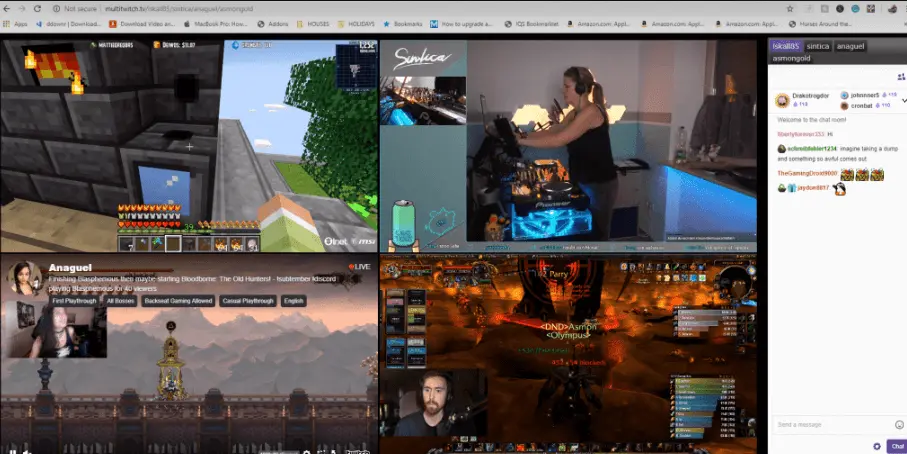 If you are looking for a way to select the streamer to start watching their streaming, then MultiTwitch is the way to take it. With this web-based option, you can select as many streamings to stream as your computer can afford to run. Each streaming will appear separately and fit on the screen, and if you want to participate in any stream through chat, you will need to select that window.
How to Use MultiTwitch for Multi Stream Twitch?
Find and select the streamer that you want to watch.
Go to MultiTwitch.TV and add usernames of streamers like "/streameusernamehere" You need to add each streamer's name in that way. Such as: "MultiTwitch.tv/streamer1/streamer2/streamer3".
Once you complete the above step, hit the button Go or press Enter. Streamers will start to show on your window with the appropriate aspect ratio. You can participate in each streamer's chat by clicking on that streamer.
If you left room for another streamer to watch while you already watching multiple streamings, just add the username of that streamer.
Multistream – Another Multi Stream Twitch Web-Based Option
Multistre. am is another web-based solution for watching multiple streams simultaneously on Twitch. To multi stream Twitch, this web-based tool allows you to stream eight streaming simultaneously. Here is how to watch multi stream Twitch using Multistre.am

Gather all the links to streams that you want to watch simultaneously.
Paste each stream's link to the Multistre.am search bar.
Now, select the preferred layout style to watch multiple streams simultaneously.
Select the option of Watch Streams and proceed.
If you want to chat with any of the eight streamings, you just need to select that streamer's window.
Frequently Asked Questions
Can I Avail of Drops While Watching Multiple Streamings on Twitch?
Multi stream Twitch will not entertain you to avail drops of each stream. You can only get a stream by watching a single stream continuously.
How Many Streamers Can I Add Using Twitch Squad Stream Feature?
A total of 4 streamers can stream using squad mode on the Twitch streaming platform.
How Many Streamings Can I Watch Using MultiTwitch.TV?
You can watch four streams with the help of using MultiTwitc.TV, a web-based solution for multi stream Twitch streaming.
How Many Streamings Multistre.am Allows you to Watch?
Multistre.am allows you to watch eight streamers simultaneously.
Conclusion
The end of this discussion started with multi stream Twitch, which can be concluded as many resilient ways allow you to watch multiple Twitch streams on the go. You just need to get information about these solutions, and that's it! This blog makes you familiar with all the possible ways to watch multiple streamings on Twitch simultaneously.