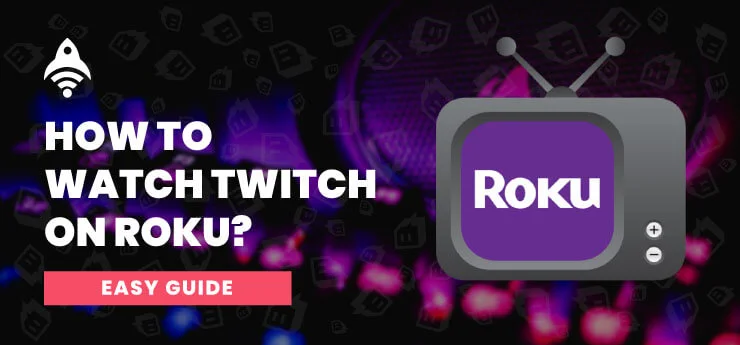 How to Watch Twitch on Roku?
Regarding talking about the most popular digital media player brand, Roku comes at the top of the list. It allows its users to watch streams and audio content on their television from any streaming platform. It means whether you want to watch a prime video on your TV or want to watch esports or games, that player has all the features which make your experience better. As we said, you can watch streams through Roku. Do you know how to watch Twitch on Roku or any other streaming platform? We will discuss it later, but for now, let's have a general perspective about the Roku media player.
You can also watch streaming platforms such as Twitch from this console. It allows its users an exceptional experience of watching live streams on Twitch and enables them to enjoy their family time a lot. Due to its user-friendliness, Roku has become everyone's household.
The whole scenario was a debate of a previous time as Twitch removed Roku and took it over. Due to that reason, many users that have Ruko subscription gets disappointed. If you are also one of them, this blog is for you as we brought some other ways to find out how to watch Twitch streamings on Roku easily. In this blog, you will get all the other ways that will help you to restart your Twitch streaming watch on Roku. Let's explore our different options so that things get easy for us.
The Way You Can Watch Twitch on Roku
In this section of our discussion, we will discuss the way or ways how to watch Twitch on Roku. So, let us dive into the main discussion.
Adding TWOKU
When the official Twitch channel disconnected from Roku, the users that didn't install its original version could not access it anymore, but TWOKU is the next thing that users can use to watch Twitch streams on Roku. Following are the steps involved in connecting it properly.
The first step is to log in to the Roku box and then go to account settings to proceed further.
Once you open the account settings, you will see multiple options that are clickable. Click on the option of "Add channel with a code" and proceed.
Here, you will find a new dashboard named Channels. In the text box, type TWOKU or type this code "C6ZVZD." Then press the Add Channel option to proceed.
Now, you need to press OK to a warning pop-up message that will appear in that step.
In this step, you need to press Yes, and add the channel.
After completing the above steps, you will be able to find the answer to the question of how to watch Twitch on Roku now. You can add it to the media player. Following are the simple steps to add Twitch to Roku.
Open the Roku home screen and go to settings to add the Twitch platform to watch.
Now, select the option of System and proceed.
Here, click on the option of System Update. Click on check now and install the updates.
Once you have downloaded the updates, the Twitch streaming platform will be available for you to watch streams on your Roku home screen.
Note: The TWOKu is not a verified application, so when the algorithm of Roku finds out that you are tempering its terms and conditions, it can prevent you from using it. That is why use it at your own risk.
How To Get Back Twich Channel On Roku Back?
If you are a Roku user and want to get back to your Twitch channel that the platform removed, it is possible. There are a couple of steps that are involved in it. Following are the details of these steps.
As always, log into your Roku Box account if you are not already.
Now, go to Add Channel settings.
In the search box, search for "twitchtv."
A warning message will appear, press OK and proceed to get it back.
Now, add the Twitch streaming channel to your Roku device.
Now, use the above steps to update your Roku channels. Fortunately, it is a safe process allowing you to watch Twitch on Roku.
Watch Twitch on Roku by Mirroring From Mobile
When it comes to talking about how to watch Twitch on Roku, mobile mirroring comes into handiest approach. The best part of this method is that it is risk-free, and you can enjoy your favorite Twitch streams on Roku. There are a few steps that are involved in it, let us have a look.
The first ever step, log into your Twitch mobile app and select the stream you want to watch.
Down the shutter of your mobile and select the option of Smart View or Screen Cast.
Select the Roku device from your mobile to watch Twitch on it.
Now, in this step, you need to allow the app to cast the videos of your Twitch app on Roku.
Once you have a stable connection, you will be able to watch any of your Twitch streams or VODs on Roku easily.
Frequently Asked Questions
How Do I Get Twitch On My TV?
The easiest way to watch Twitch streams is to watch them on television. Once you open the Twitch app on your mobile phone, you can cast streams on Wi-FI cast-enabled devices. From there, you can watch Twitch on your TV.
How Can I Cast Twitch Videos On TV?
With the Smart View or Screen Cast option on your mobile, you can cast Twitch streams on TV.
Conclusion
The above discussion on how to watch Twitch on Roku allows you to get multiple ways to do so. Many ways are explained in this blog make sure to read it and get a proper and concise approach to make it happen.