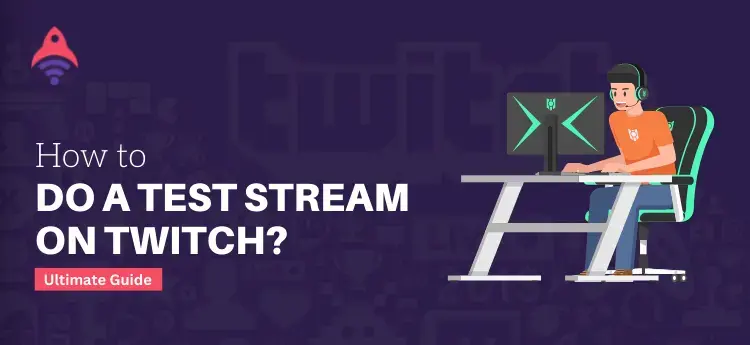 How to Do a Test Stream on Twitch?
If you are a streamer and wondering how to do a test stream on Twitch, then this blog is the most valuable thing that you got. You will find all kind of means that helps you to test your stream before going live with your audience. Testing a live stream is an essential thing that enables you to make everything perfect and makes your audience happier with you. A bunch of benefits come with testing a stream before its starts. Moreover, testing a live broadcast makes you confident about what you will cast. In addition, it also lets you clear, if any, flaws in your streaming. If you don't know how to test your stream on Twitch, let us start finding it to boost your understanding.
How to Do a Test Stream On Twitch with Ease?
If you are new to streaming, then it is essential for you to learn how to test your stream before its starts. In this section, you will learn this matter in different manners. It means whether you are a streamer who streams with gaming consoles such as Xbox or PS4, the need for knowledge is the same in all scenarios. The first thing that you must check in all scenarios is a stable internet connection, a good webcam, a fine headset with a clear microphone, and the game setup that you are going to play. Now, to test your stream, launch your game and play it as you play in a live session. With this approach, you will get an idea what are the pros and cons of your streaming, make them right, and go for live streaming.
Related: How Do Twitch Drops Work?
How to Do a Test Stream on Twitch Via Lightstream?
If we read the above question, it may look confusing to you, and you might think about how to test stream on Twitch via Lightstream on a gaming console. So, if you are a new streamer who streams from a console, you must know how to connect it with Twitch first. In this section, you will get a clear guide on this matter. So, let us start with the stream testing process on PS4, and after that, we will discuss the other gaming console, the Xbox.
Testing of Twitch Streaming Via PS4
A couple of steps are involved in testing a stream on Twitch via PS4. Following are the steps to start testing a stream on Twitch if you are streaming through PS4.
The first step is connecting your Twitch account to the Lightstream website by choosing one of their plans.
Connect your PS4 account with your Twitch streaming account by going to the settings.
In the third step, go to the Network options and select the Setup internet connection.
To get the best streaming experience, choose the wired connection from the settings. Go to the LAN Cable > select Custom > then go for Automatic > and Do Not Specify.
Now, set up the DSN settings, select Manual, and enter the primary DSN according to your region.
Make sure not to use any proxy server as it can affect your streaming speed; select automatic MTU settings instead.
Now, it is time to test your internet connection.
Connect your desired game to play with the Twitch channel.
Choose the Twitch streaming platform to stream your desired game through PS4, then go for the editing. Check your mic, camera, internet connection, and video quality to create a great user experience.
After completing the above steps, start streaming for a testing session.
How do a Stream Test on Twitch Via Xbox?
Here are a few simple steps to follow so that you can know how to do a test stream on Twitch via Xbox. So, let us find it out.
Log into your Twitch streaming account through Lightstream to get started.
Then go to the gamer projects.
Name your project now and enable the Auto Live Project option.
Now, edit the stream layers by opening Game Source.
After completing the above steps, go to the Xbox twitch streaming interface.
Select Lightstream and edit the Twitch streaming option, which will be on the right side of your screen.
Check that everything is good by going back to the Lightstream and when you find out everything is perfect as it should be, start the live streaming.

Here your testing of Twitch stream via Xbox ends! Make sure to follow all the above steps to make your user's experiences outstanding.
How to Do a Test Stream on Twitch Via Twitch Stream Key?
Testing a stream by using your Twitch stream key is quite a simple and easy process. You just need to follow three simple steps.
Go to your Twitch account and sign into it.
Open the Stream Manager option, which will show on the top right of the screen.
Now, choose the Stream Key tab.
There, you will find your Twitch stream key. Remember one thing: it is not your ordinary stream key; it will only stream your desired broadcast. After copying that key, go to your Twitch dashboard and select the channel you want to test.
How to do a Test Stream on Twitch Via Twitch Inspector Tool?
When we know how to do a test stream on Twitch, the Twitch inspector tool comes in handy. It is most probably the easiest way to test a Twitch live broadcast. You just need to put your stream's details in it, which will tell you all the technicalities in your stream. Following are the steps to perform this process.
First of all, go to the Twitch TV inspector and sign into your Twitch account with your credentials.
The second step is selecting the channel you want to start a stream test. You will get a list of channels from the "Channel" drop-down menu.
At last, choose the closest Twitch server to your location from the drop-down menu of "Test Server."
After putting all the essential details, you can run the test to get all the technical issues in your streaming- That's how it works!
Tips to Test Your Twitch Stream
Always make sure about what you will stream. With this approach, you will get ease in maintaining your focus.
Keep engaging with your audience to get their feedback to make your content more effective and user-intent. This will increase your viewer count and boost your popularity.
Always prefer the time in which you get fewer viewers and followership. It is so because if you test your stream and it goes wrong, it can impact you negatively.
Wrapping Up
At the end of our blog, we can say that we have probably covered all the ways to know how to do a test stream on Twitch. So, if you are a new streamer and want to make your stream more effective and increase your visibility, read this blog, and you will learn all you need to know.