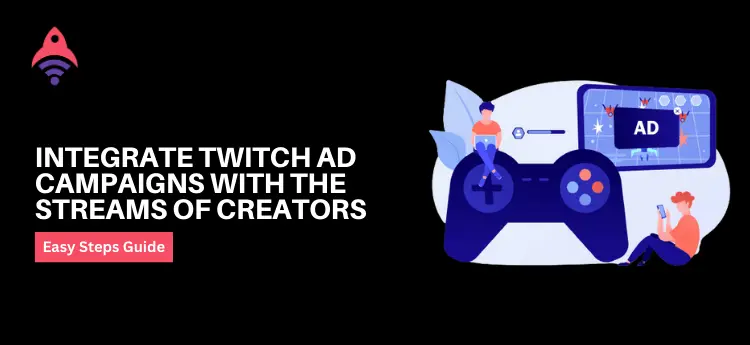 How to Integrate Twitch Ad Campaigns With the Streams of Creators?
Twitch became one of the most popular live-streaming platforms due to its versatile opportunities and ease of use. That platform has a huge money-generating potential, allowing its users to earn and build their audience. More than 67% of Twitch streaming platform users are young around the globe and lies between the age of 26 to 35. This makes it the most potential platform for brands to market their products or services. Twitch ads are a great way for not only the streamers but also the brand owners to reach out broader and more targeted audience for their streaming channel and products separately.
When we talk about some stats, last year, there was a peak seen in the music streaming on Twitch and DIY category on this platform which opens new horizons to market your products or services on Twitch. With the exceptional growth of the Twitch streaming platform, advertisement opportunities also get high, allowing the brands to run ads on the Twitch platform and gather an immense amount of audience for their products and services. If you are wondering how to integrate Twitch ad campaigns with streams of content creators, then you are in the right place. This blog will lead you to know every aspect of Twitch ads. So, let us start with a question what are Twitch Ads, and what is their importance of them?
What Are The Twitch Ads?
As we spoke, Twitch is a famous live-streaming platform that allows users to connect with each other while streaming their favorite games, music, or other kinds of content. Millions of young and active users are on this platform, making it worth running advertisements for your brand or product. The videos that show before or during streaming other than streaming content are Twitch ads. In addition, the advertisement that you see before starting a stream is called a mid-roll ad.
A pre and mid-roll ad could last for 30 seconds to three minutes on the Twitch streaming platform. Till today, the Twitch streaming platform supports seven types of ads that you can run and integrate with the content creators on the Twitch streaming platform. From the Homepage Carousel to the Homepage headliner, Medius Rectangle to Stream Display Ad, Streamables to Super Leaderboard, and Twitch Premium Video. You can run these ads on Twitch by integrating with the content creators.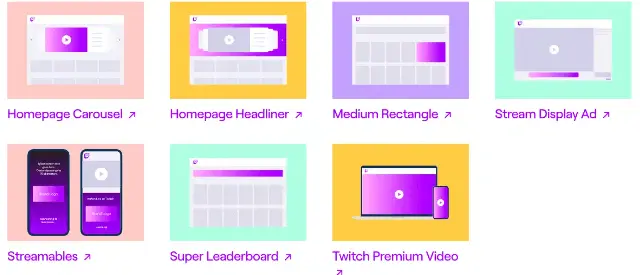 Now, let us learn how to run ads on Twitch so that things get easier for us to understand.
How to Run Ads On Twitch?
Twitch is a versatile platform with many opportunities to run ads before or during a stream. The Twitch premium ads are mid-roll and pre-roll, lasting for thirty seconds to sixty seconds. If you want to run the ad for extra time, you must pay extra. These ads are unskippable, allowing you to interact with the audience for a long time and increase the chances of getting noticed. You need to integrate with the content creators to run these ads on Twitch.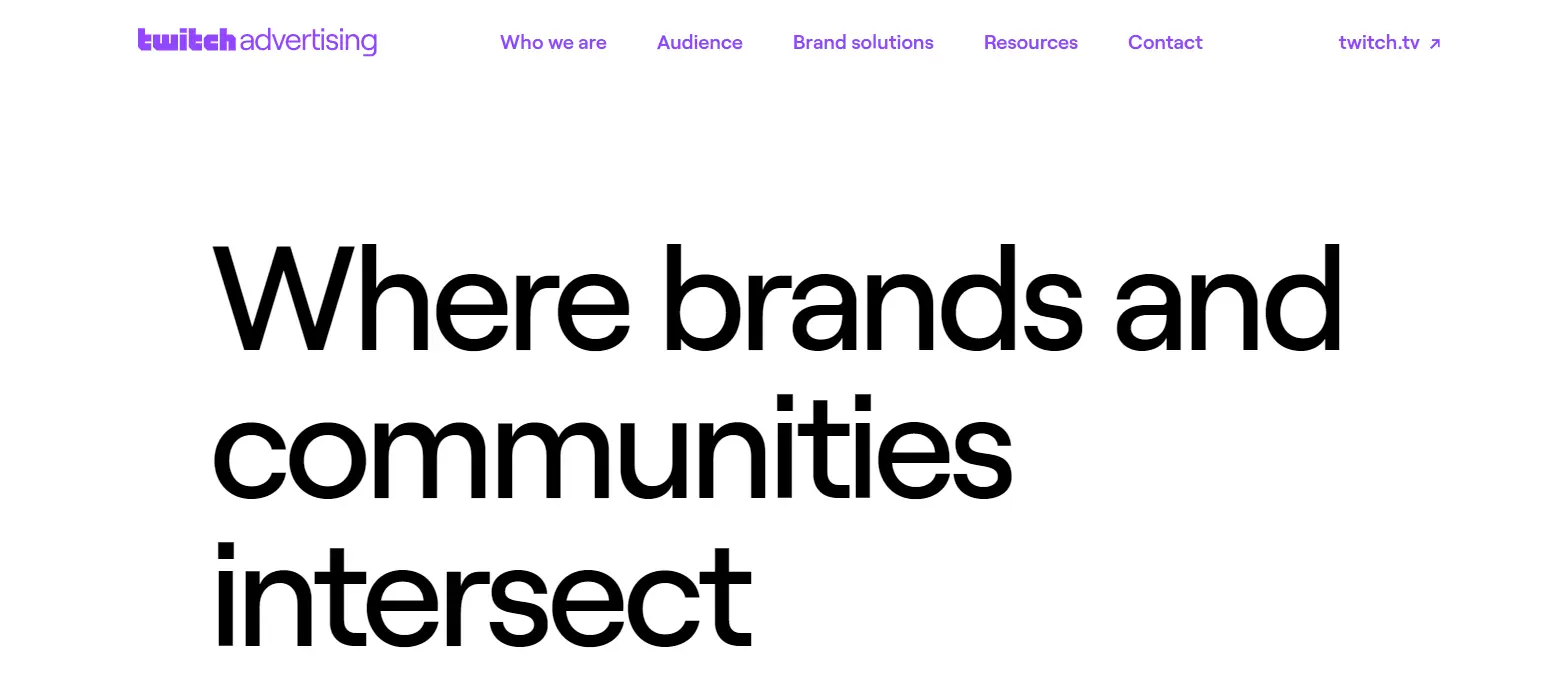 On the other hand, when we come to discuss the ad video specifications, you need to keep a few things in mind. The video size should be 1920 by 1080 in resolution, MP4 in format, from 24 FPS to 30FPS max.
Unlike Google ads, you don't need to run your ads on Twitch alone. To run the ads on Twitch, you need to contact the Twitch platform directly. You must supply your budget details, industry information, targeted audience, and the country you are targeting.
When you are done with submitting the form, the Twitch platform's team will contact you and guide you for further assistance. That is the answer to how to integrate Twitch ad campaigns with the streams of creators. After that, you will need guidance on the best practice to run the Twitch streaming platform ads. For that purpose, we have created some points for you to make it easier to understand. Let us find them out!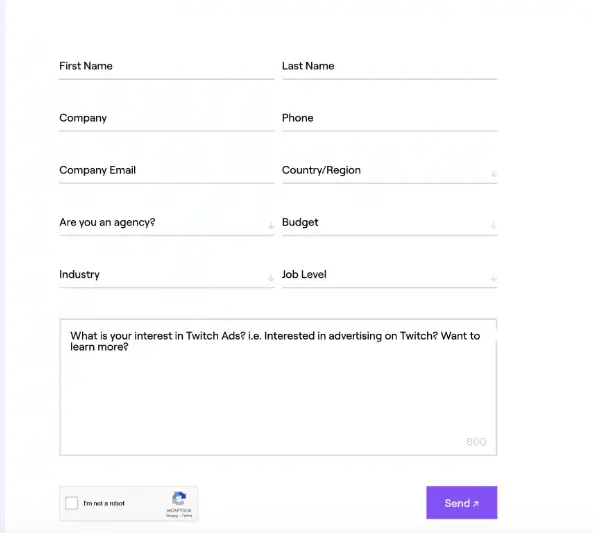 Best Practices to Run Ads on the Twitch Streams
If you are a brand owner and integrating with a Twitch creator, you need to follow some tips to improve your advertisement. Here is the detail of it!
Start with the small ads at the beginning to run the ads. This will let you know the impact of your advertisement on the Twitch audience.
Make a better understanding of the Twitch streaming platform to run ads. The better you know the audience's behavior on the platform, the more you can benefit from it.
Make sure to announce the ad break so your audience gets ready for it. In addition, try not to run too many ads in your streaming, as they can be an interrupting factor.
Do not run the ads consecutively while you are streaming.
Try creating amazing ad videos so your viewers can watch and enjoy them.
Make sure about social listening and monitoring to target your desired audience to run ads on Twitch.
Last but not least, optimize the ads for the best outcomes on the Twitch streaming platform.
Frequently Asked Questions
How Will Ads On Twitch Pay You?
The AIP (Twitch's Ads Incentive Program) allows you to get a fixed and reliable incentive against advertising on your stream. It depends on the number of ad-dense streaming hours you complete as a content creator in a month.
How Much Money Do Content Creators Get From Ads on Twitch?
According to authentic resources, Twitch pays three point five dollars for one thousand ad views.
How Often Should You Run Ads on Twitch?
Make sure not to make the experience of your audience an intrude one. You can run an ad after thirty to forty minutes without losing your viewership on Twitch.
Conclusion
In the above discussion on how to integrate Twitch ad campaigns with the stream creators, we can say that it is quite simple. From the above discussion, you can also find out the best practices for running ads on Twitch and their importance for Twitch brands. So, don't miss the opportunity to start running ads on Twitch so that you can get a broader audience for your product or brand.