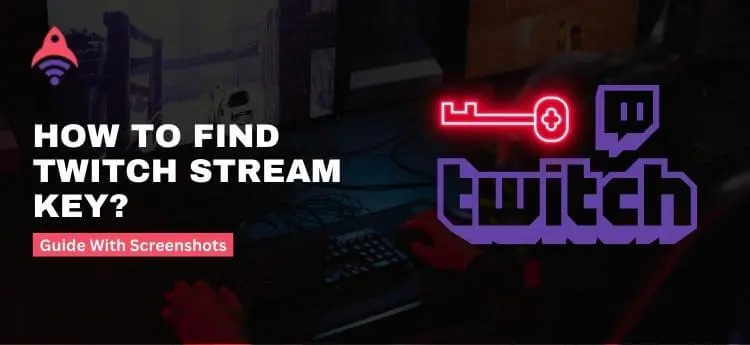 How to Find Twitch Stream Key?
When it comes to talking about stream key, there are so many aspects of it that come to discuss it. A stream key is a kind of code that allows you to start your particular streaming channel. Some software allows you to start streaming through your Twitch account and some of them use stream keys for it. On the other hand, as we all know that every website has a unique domain, similarly, a streaming code is also a unique key that allows you to start streaming on a specific channel. But do you know how to find Twitch stream key easily? What will be the circumstances if you share it with someone? How to change your stream key?
There are multiple questions related to Twitch streaming key that people asking nowadays. To make it easy for all of them, we decided to cover them all in this blog. With the end of this discussion, you will be able to find the Twitch stream key, the process of changing it, and many others.
Steps of How to Find Twitch Stream Key
As we have discussed the stream key is a code that enables you to start streaming on a specific channel. That's why each Twitch streaming channel has its unique stream key that only an account holder find out. So, if you are looking for "where do I find my Twitch stream Key" then, here are the steps to follow for this action.
The first approach is to log in to your Twitch live-streaming profile.
After that, look at your profile avatar placed on the right side of your dashboard, there, select the Creator Dashboard option.

From the above step, you will get a new dashboard. On the left-hand side, select the option Settings, and from there, select the Stream option.

There, you will find out your stream key under the tag "Primary Stream Key".

Here is the answer to "how to find Twitch stream key" with easy steps. In addition, at that point, your stream key will show to you in dots due to privacy.

To show your stream code, you can select the option Show which is placed at the bottom of the bar.
If you want to copy your stream code, you just have to hit the Copy button and just so you can perform this action.
Above are the easiest steps to follow to get the answer to how to find the Twitch stream key. With this approach, you can make your whole process smart. On the other hand, there are some precautions while using your stream key. Never allow anyone to know about your stream code as it is sensitive information.
Related: How to Hide Chat on Twitch?
Why Shouldn't Share Your Stream Key With Anyone?
As we don't give our bank account passwords to anybody as it is sensitive information and anybody can misuse it. Similarly, your Twitch stream key is also a unique code that is your secure information. If you share it with anybody, it can be harmful to your Twitch channel's reputation. It is so because you don't know what is going on in the next person's mind. So, make sure to keep it secret and never share it with anybody. So, make sure about the privacy of the unique key of the Twitch streaming channel.
What to Do if Someone Gets Your Twitch Streaming Key?
It is a frequently asked question after the "how to find Twitch stream key". When you find yourself in that situation, make sure to fix it. And to fix it, log into your Twitch account immediately and change it.
There is another way to secure your stream key from stealing and that is the 2FA option. The Twitch streaming platform allows its users a high-end secure login option to avoid any kind of scam with them. The Two-Factor Authentication option allows you to make your logging in two parts. So, if someone finds your first part of the login, they will still need the other one. So, make sure to use such kind of approach and make your Twitch account secure.
Frequently Asked Questions
In this section, we will discuss frequently asked questions so that you can get a broad view of Twitch streaming code.
Why Can't I Get Twitch Stream Key?
If you read this blog, then you must know about this matter. But in case you don't read it, here is your answer. Log into your Twitch profile > Click on the profile icon > Select the Creator Dashboard > From settings, select the Stream > There you will find your Twitch stream key. This process is also the answer to why can't I find my stream key. So, make sure to get all kinds of information about this matter.
Can I Find My Twitch Stream Key on Mobile?
To find out your Twitch streaming key, you need to choose the browser on your desktop as there is no option to find it through mobile.
Do I Need Different Stream Keys for Different Locations?
As Twitch is a universal website that allows streaming live broadcasts or games all over the world. That's why you don't need a different stream key if you change your location. On the other hand, in some cases, Twitch can change your streaming key as it may happen if is it found that someone tries to breach your account. We can say that Twitch makes its users' experience exceptional and also protect it from scammers.
Conclusion
In conclusion, we can say that Twitch is one of the most secure streaming platforms that allows its users a top-notch experience. Whether you are wondering about "how to find the Twitch stream key" or want to get a way to change it. Twitch streaming services provide you with all sorts of liberties that make you feel wow! On the other hand, from the above discussion, you can also find out how to secure your streaming code so that no one can misuse it.