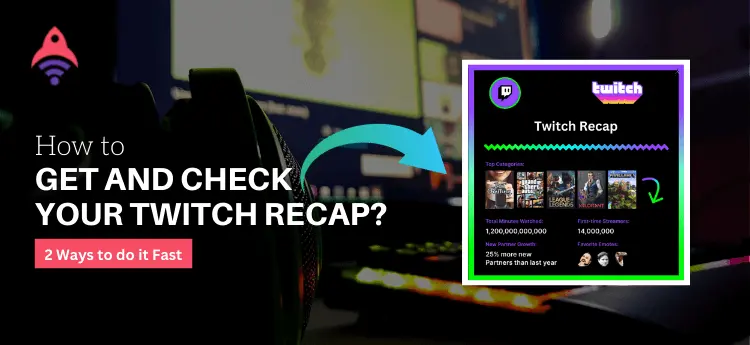 How to Get and Check Your Twitch Recap?
There is no time when this year will end; as a Twitch streamer or user, you need to know your routine on this platform. To do so, Twitch recap is a feature that lets you get insight into all the activities in this live streaming platform. As a Twitch user, you will get an idea of what content you watch for how many times. How long did you spend on the Twitch streaming platform? In addition, as an ordinary watcher on Twitch, you will get insight into which emotes you use most of the time, how many likes you hit on a video, and many other things. On the other hand, as a Twitch streamer, you will get a magnificent view of your overall activity on this streaming platform.
Whether we talk about the likes you got, new subscribers, total watch time that you streamed on this platform, or the number of followers and viewers, Twitch recap gives you deep analytics about your account activity. Did you know how to get Twitch recap? Well, if you are a streamer or a user, don't get upset because we are here for you to help you. In this blog, we will debate this matter to get answers related to recaps on the Twitch streaming platform. Then why not start with the basics so things can be clear for everyone: users and streamers? Let us dive right into it!
What is The Twitch Recap?
As we have mentioned above, a recap on Twitch provides you with a lot of stats to make your streaming more precise. It is just like an annual report that covers a list of activities, achievements, and progresses. With its help, you can get the information in the following categories as a user on Twitch:
A total number of likes and messages you have sent to anyone on Twitch.
It tells you how many channel points you got that year.
Which live streamer on Twitch do you watch most of the time?
On the other hand, as a streamer on Twitch, there are a couple of the most important starts that Twitch recap provides you. Here is a short introduction to them:
The total number of followers.
The Watch-time that users spend on your stream.
Your most-watched clips throughout the year.
Channel growth indicators that show how did you grow.
From the above statements, you can estimate how beneficial recap is on Twitch. Then why not find out how to get them? Here is the way you achieve that goal!
How to Get Twitch Recap 2023?
As we can estimate how handy the data provided in the recap on Twitch due to that reason, many streamers or users want to know how to get this helpful data. When we talk about this matter, two streams come out. The first way to get a Twitch recap is by using the official service of this platform. On the other hand, the second one is through the Stream Charts service, specifically for streamers. The first approach is quite tricky but not an impossible one. You just need to follow some essential steps to get the results. In the next part of our blog, you will learn both ways to get your required results.
1st Way: Twitch Recap by Officials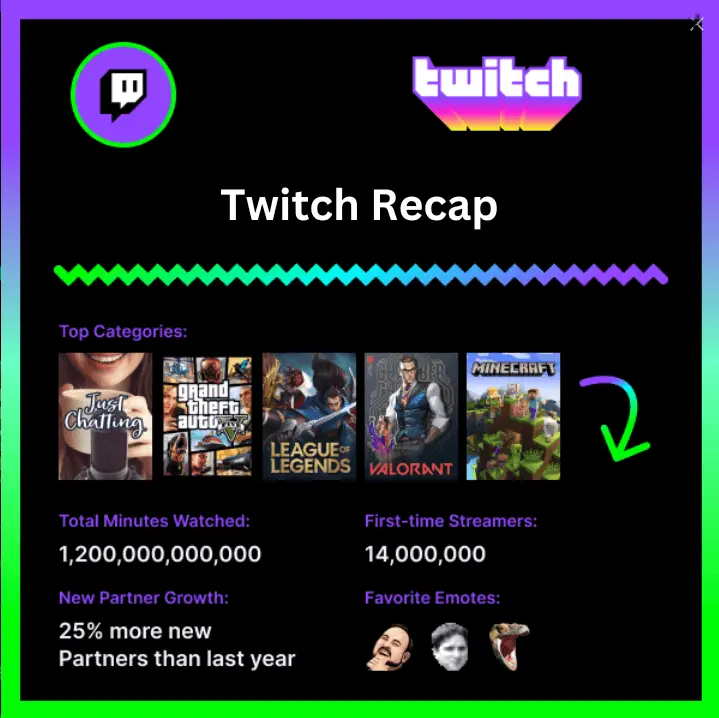 When we come to talk about this way to get results, it is an automatic process. It means Twitch sends its user recaps on its own. In addition, this platform sends it in two forms which are the user form and the streamer form. You need to turn on the marketing emails from the streaming platform to get the notification of your recap. To enable the emails, here are some steps to follow.
Open the Twitch platform and go to the settings.
Select the notification option.
Go down and select the option of By Email and turn it on.
Now, you just have to wait for your Twitch recap.
2nd Way: Through Streams Recap
Stream recap comes at the top of the list when we talk about how to get Twitch recap easily. With this feature, you can get all the results quickly. There are multiple things you will find out in their results. From the high-ranked videos through the year, followers gain, viewers count, watch time, and a lot of other stats.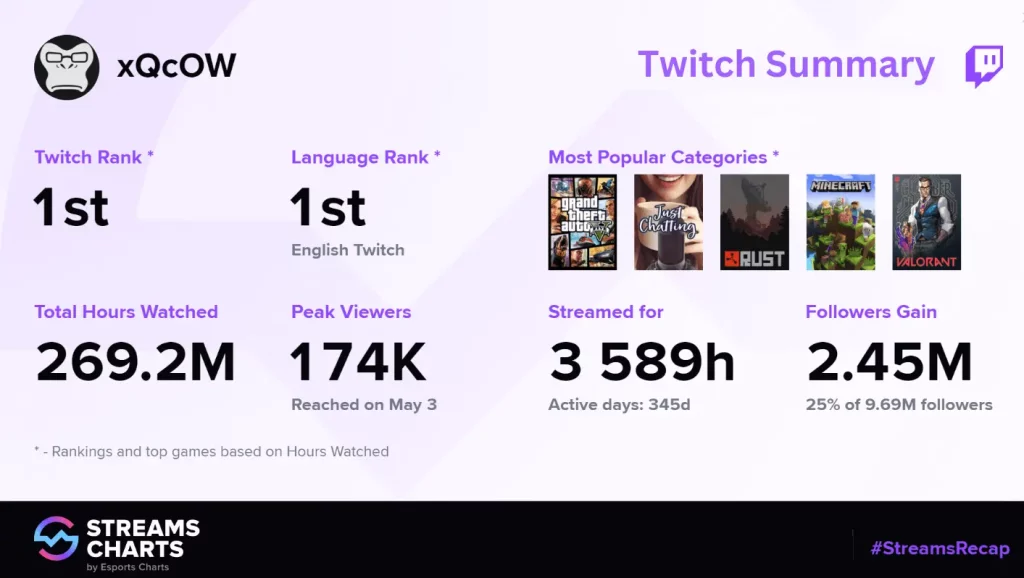 On the other hand, as mentioned above, this way to get a recap on Twitch is specifically for live streamers. It will provide you with a lot of handy information about your channel. Here is the list of things you will find in this report.
You will get the following:
The Twitch streaming platform rank of your channel.
Most popular category in which you have played all over the year on Twitch.
The time counts how long Twitch users are watching your stream.
It tells you the number of active viewers as Peak Viewers.
The Twitch recap by stream charts also tells you how many followers you gain in that year.
It also tells you how long you collectively stream on the Twitch platform in the year.
It is not ended yet because the stream charts also compare all the data with your previous reports if you are an old streamer on Twitch.
Conclusion
Knowing about your actions and your viewers' reactions on Twitch allows you to increase your productivity. In addition, with the help of Twitch recap, you can also make decisions about how you should stream on it so that getting maximum followers would be possible for you. There are hundreds of benefits to getting this report, as it gives you an insight into your activities on the platform. Moreover, it doesn't matter how long you spend on Twitch to stream and get more followers. The recaps on Twitch enable you to take initiatives accordingly. In addition, with the help of this feature, you can make your Twitch channel more attractive and, eventually, grow. So, read this guide to learn how to get a Twitch recap with a straightforward approach.