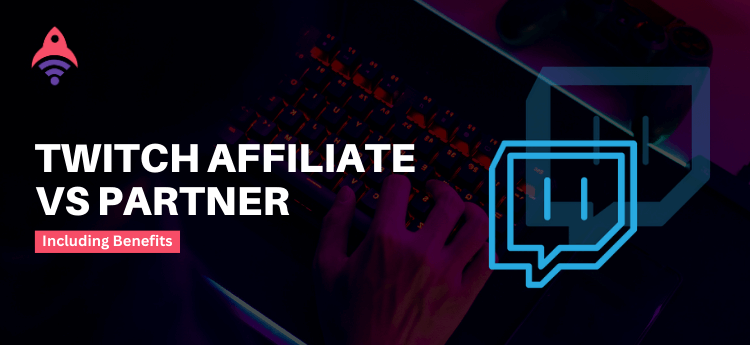 Twitch Affiliate Vs. Partner
If you don't know, Twitch is a game streaming platform owned by Amazon and was established in 2013 at $970 million. And now, it has become the most valuable platform that allows millions of users to watch or create streams and enjoy. In addition, more than 100 million users use that platform every month to entertain and earn money through it. There are two main ways to earn on the Twitch streaming platform: Twitch Affiliation and Twitch Partnership. These two approaches allow you different perks as a content creator. If you are wondering what is a Twitch affiliate vs. partner? What is the difference between them? How to get Twitch affiliation? How to become a Twitch partner? Then this is the right place for you!
In this article, we will discuss the difference between Twitch affiliates and partners, the requirements to become a Twitch affiliate or partner, the benefits of becoming a twitch affiliate or partner, and other aspects that will blow your mind and urge you to become one of them. So, keep reading it to better understand what this is all about.
The Difference Between Twitch Partner Vs. Affiliate
When differentiating between Twitch partners and Twitch affiliates, things get amazing. Both scenarios have their kinds of advantages. These perks can be seen from different angles. But, when we choose which one is better in Twitch Affiliate vs. partner, the second one comes at the top of the list with immense numbers of premium perks and accessibilities. Twitch partners earn a certain amount of Twitch ads campaigns and subscription programs. In the next section, we will discuss the requirements that you need to fulfill to become a Twitch partner and affiliate. So, let us get started.
Twitch Affiliate and Partner's Requirements
If you wonder about the difference between a Twitch partner and an affiliate, this section will clear your ambiguities. The difference between a Twitch affiliate vs. partner starts with the required status. This section will discuss the requirements you need to fulfill to become a Twitch affiliate or a partner. So, let us start to discuss them.
1. To become a Twitch Partner, you must fulfill the following points in the last month of your streaming:
You must have had 75 concurrent viewers on your streams in the last month.
Streamed on at least 12 different time frames in the last month.
And you must have streamed for 25 hours in the last month.
2. Becoming a Twitch affiliate is quite a different process and needs to fulfill the following requirements.
You must broadcast for a minimum of 500 minutes in the last month.
Need to broadcast on 7 different days in your last month.
You must have an average of seven concurrent viewers on your last month's stream.
And have at least fifty followers on your Twitch streaming channel.
The above discussion shows the requirements of Twitch affiliate vs. partner. The next section will discuss the advantages of becoming a Twitch affiliate vs. partner separately.
Advantages of Being a Twitch Affiliate
Being an affiliate with the Twitch streaming platform comes with amazing perks that allow you to enjoy streaming on it. The first advantage is that your streamings can be stored in VODs (on-demand videos), with which your viewers can watch your streams for up to 14 days of live streaming. This feature allows you to get more viewership on your streams and enables you to get higher ranks among the other streamers. In addition, with the Twitch affiliation, you can also create polls and incentives for your users. These tactics can help you to keep engaging your users and enable them to get back to your streams again.
Moreover, there is also an always-threatened situation in the Twitch affiliate program. If you are involved in any kind of inactivity or breaking of the T&C of the Twitch streaming platform, you can lose your Twitch affiliation along with its perks.
Benefits of Being a Twitch Partner
When discussing the advantages of being a partner of Twitch, things get so fancy. As a Twitch partner, you can get 60 days of backup for your recorded streamings in VOD storage. In addition, you also get sixty emotes that you can use while streaming. Stream delay and squad streaming features are also enabled for you in the Twitch partner program, which allows you to attract more viewers to your streams. This does not yet end because, as a Twitch partner, you can create self-emotes, stream teams, and can get the prioritized response from the Twitch support team.
Estimated Payouts of Twitch Affiliate vs. Partner
The Twitch partners and affiliates can earn through bits and ads on their streaming channel. With a single bit, 1 cent goes to the Twitch affiliates or partners. In addition, after and before streaming ads allow you to earn money with an immense amount. If your payout exceeds $100, a Twitch affiliate can get them. That is how much you can earn being an affiliate or partner of Twitch.
Frequently Asked Questions
Who Gets Paid More between Twitch Affiliate vs. Partner?
The difference in payouts between partners and affiliates on Twitch is not specific, as both have equal opportunities. Twitch partners are likely to get more revenue compared to affiliates as they have more access to the branding and ads. At the same time, Twitch affiliates have access to the features that help them to earn from their dreams and ads.
Who Is Better to be from Affiliate vs. Partner on Twitch?
Both are good to be as they benefit you and have equal opportunities to grow on the Twitch streaming platform.
Conclusion
The above discussion on Twitch affiliate vs. partner shows that there is a huge potential on the Twitch streaming platform and becoming one of them. Make sure to fulfill all the requirements implemented by the Twitch streaming platform to become a Twitch partner or affiliate.